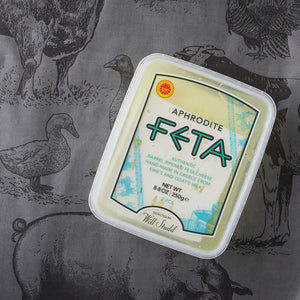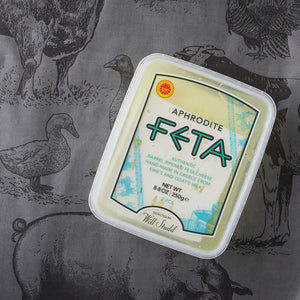 On Sale
Aphrodite Feta
Authentic handmade Greek barrel-ripened feta is rare, and it tastes very different to modern feta matured in brine in airtight tins. This cheese has been carefully ripened in small, old beech wood barrels using traditional techniques that date back to the time when nomadic shepherds roamed the hills of northern Greece.

The barrels enable small amounts of oxygen to reach the salted curds as they ferment under whey, and the natural flora in the wooden staves helps to encourage a unique yeasty aroma. After three months maturation in the barrel, the feta develops a soft milky texture and a seriously creamy peppery finish that is very different to modern brined feta matured in sealed tins or plastic.

Barrel-ripened feta is now produced by just a handful of small dairies in Greece because of EU regulations and the skill and expense involved in the production. Each barrel has to be filled with curd by hand and after the cheese has been removed, it must be broken down stave by stave, washed and rebuilt by a skilled cooper.
This rare Greek feta has a soft milky texture and creamy, slightly peppery finish that is not overly salty.