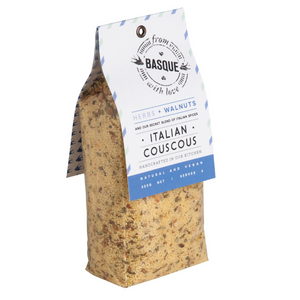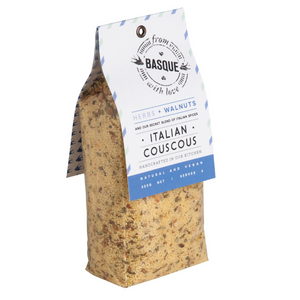 On Sale
Italian Couscous | Basque with Love
Susana Corcoba grew up in the Basque country, a region bordering Spain and France, renowned for its strong culture of traditional cooking with quality produce. At home Susana's 'Ama' was always preparing something fresh from the local market, which sparked her obsession and passion for good food from an early age.
COOKING INSTRUCTIONS
Mix in a bowl equal parts of couscous and boiling water along with a tablespoon of olive oil/butter, swirl around and cover for 5 minutes. Fluff couscous with a fork before serving (add extra oil or butter optional). Serve on its own or as an accompaniment to meat, chicken, fish or vegetables.
INGREDIENTS
Couscous, walnuts, garlic, shallots, salt, our secret blend of Italian spices and love.