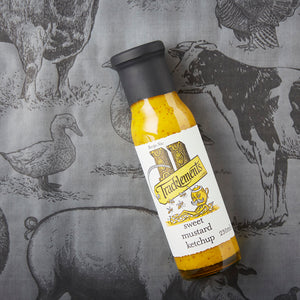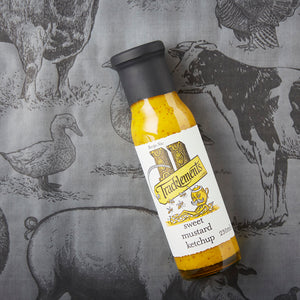 On Sale
Tracklements Sweet Mustard Ketchup
Based in the heart of Wiltshire, Tracklements lovingly make an award-winning range of over 60 artisan condiments.
To make sure all of the products taste as good as the very best homemade ones, Tracklements make them in the same manner as you would at home; with the highest quality, natural ingredients, handmade in small batches.
Tracklements know the origins of all of their ingredients and work with British farmers and spice growers from all over the globe.
A sweet piquancy, a good strong kick and a regal shade of yellow – this stuff is like bottled sunshine. Sweet Mustard Ketchup is made with a combination of wholegrain and smooth mustards and a measure of sugar and spices for perfect balance.
A delicious baste for steaks, sausages and chops, it also brightens up mayonnaise, sarnies, and potato or halloumi salads.