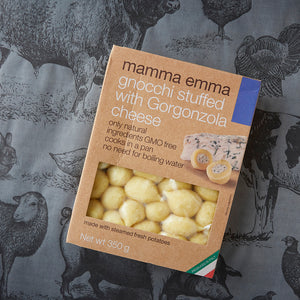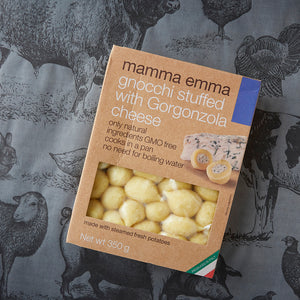 On Sale
Mamma Emma Gnocchi Gorgonzola Cheese
A first course that will win you over with its intense taste!
The first stuffed dumplings made with 100% fresh potatoes. That's what makes unique the mamma emma gnocchi stuffed with gorgonzola. The addition of Gorgonzola PDO, a real Italian gastronomic excellence, to the dough of potato gnocchi, will leave you open-mouthed.
The ingredients of Mamma Emma gnocchi with PDO Gorgonzola are: 60% steamed potatoes, type "0" soft wheat flour, 7% Gorgonzola DOP cheese (milk, rennet, salt), ricotta cheese spread 7% (98% ricotta ( whey, cream, salt), whey protein concentrate, lactic ferments), eggs, salt, sunflower oil, potato starch.
GORGONZOLA is a raw paste cheese with characteristic green streaks obtained from the blue cheese process.